UNIFYING THE VOICES OF HYDROPOWER
ETIP HYDROPOWER Governance
Implementing the ETIP HYDROPOWER Governance Structure
The ETIP HYDROPOWER governance structure is shown in the diagram below. Participation as a General Assembly Member is free, and open to all; participation in other groups and boards is through election and selection.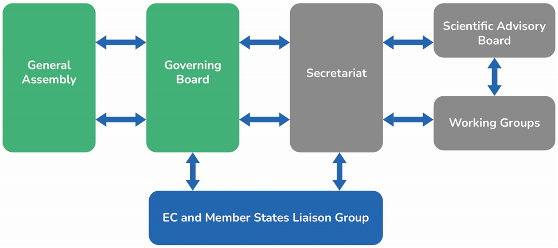 The ETIP HYDROPOWER Governance Structure
The General Assembly: Participation in the General Assembly (GA) is open to anyone. Meetings will generally be held online. As a member of the GA you can then participate in GA meetings, steering the direction of the ETIP (creation of working groups etc), and elections to populate the various boards and groups.
The Governing Board: The Governing Board (GB) is the strategic decision body of the ETIP, in charge of vision, mission, and strategic planning goals. It reviews and approves all documents including R&I Roadmaps prepared by the working groups.
The Secretariat: The Secretariat will help implement running of the ETIP and the various boards and groups. The ETIP HYDROPOWER project team currently performs this role.
The Scientific Advisory Board: The Scientific Advisory Board (SAB) will help ensure consistency and integration between different research sectors and groups of the hydropower industry.
Working Groups: Working Groups (WGs) will be established where a need is identified for experts with particular skills to address specific issues. WGs will not duplicate existing WGs created elsewhere within the industry. WGs will be created and dissolved according to the ETIP needs.
The EC and Member States Liaison Group: The EC and Member States Liaison Group (LG) will ensure that EC Member States are informed and represented within the ETIP working structure.
Implementation Schedule
The following schedule for implementation of the ETIP Governance structure is foreseen:
Date
Event
Format
27th June 2023
ETIP HYDROPOWER Governance Structure Information Meeting

Online event

Mid July 2023
Election Guidelines Released alongside open call for candidates for the Governing Board

Information online
Candidate Proposal System online
(Short CV template)

8th September 2023

Call for candidates for the Governing Board closes
Candidate system closes
4th September 2023
Voting for Governing Board members open for 5 weeks
Voting system open for 5 weeks
Early / Mid Nov 2023
Results of Governing Board elections announced
See Governing Board Members
Mid Nov 2023
1st General Assembly Meeting (incl proposed WGs, working schedules etc)
Online